Why not hold your Perfect Wedding or civil ceremony here at the Domaine de Trepart
We offer a complete wedding planning service, with on site accomodation for 14 adult guests in our gites.
We will help you make those all important decisions
Of course you want your day to run smoothly and we are here to take all the strain away for you, so you can sit back and enjoy yourselves. We will work with you to create the perfect wedding day or weekend that includes all of the luxury and romance you associate with France and the French way of living.
Every little detail will be taken care of so you can relax.
Your celebrations may start with a Champagne cocktail on La Grande Terrasse overlooking the beautiful gardens and the River Cole, then move on to dinner beneath the stars or in a beautiful marquee on the River Lawn with evocative music drifting over your guests on a balmy Summer's evening.
Catering and Entertainment
- We have a bi-lingual wedding planner who will help you choose a local caterer for your culinery delight, help with choosing everything from the canapes to the band.
- Specialities of the region include foie gras, truffles, Pineau and cepes
Other Services
- Perhaps a Wedding breakfast to start the festivities on La Grande Terrasse or set up elsewhere in the garden
- Wedding eve dinner, under the stars and fairy lights, listening to a string quartet
Getting Married at Trepart
To tie the knot here at Trepart is very simple, don't worry about the residency laws, you can still have a symbolic or religious ceremony here, provided you have had a civil ceremony in the United Kingdom first, and can provide the relevant documentation to the local Mairie (mayor) in St. Pierre de Cole.
Please confirm your personal situation and all of the information given on the site with your local authority, as laws and regulations can change regularly.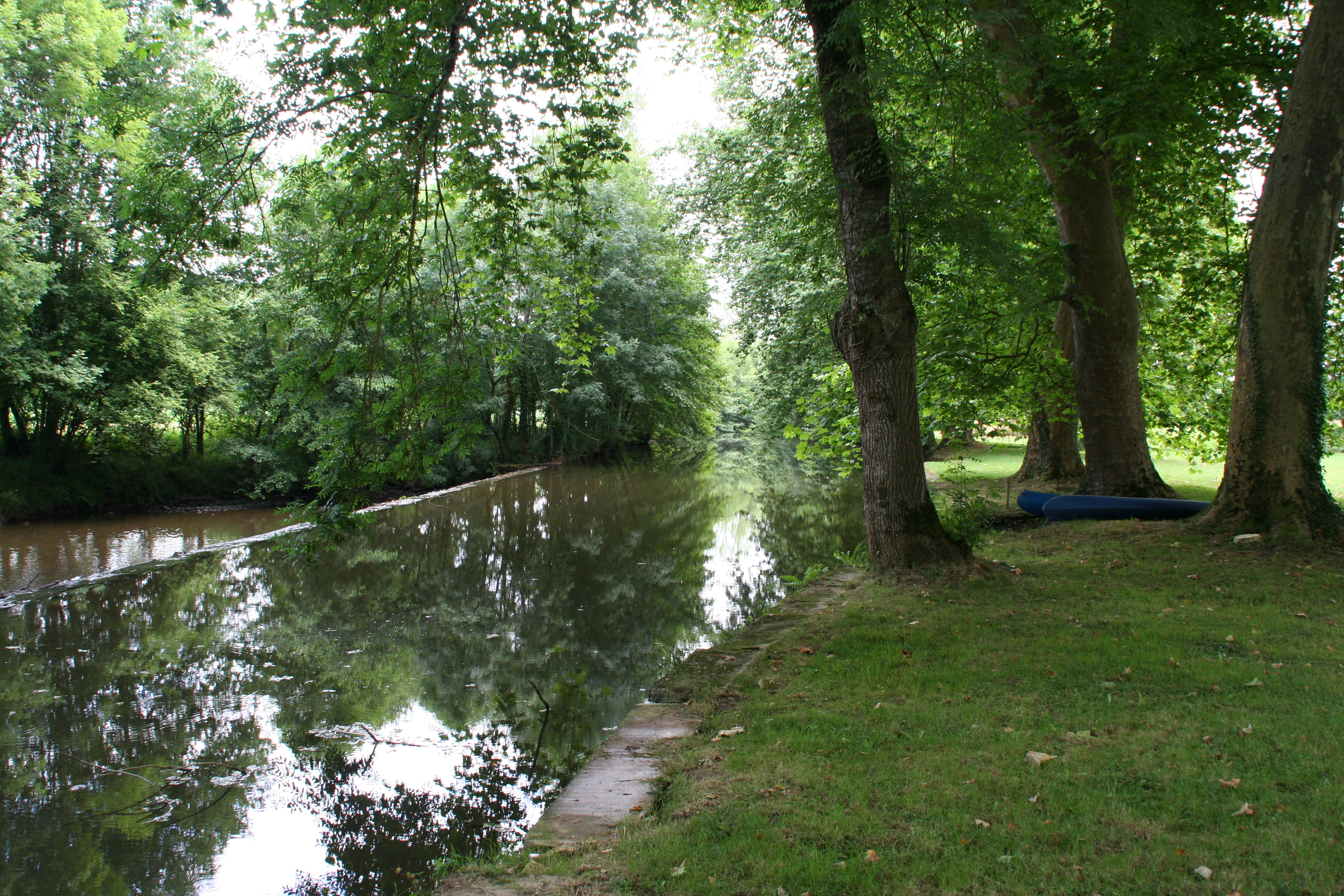 Here is the River Cole which runs through the gardens, can you hear the water running over the weir, it's beautiful and very therapeutic!
What a wonderful place for photos with a glass of bubbly in hand while your guests enjoy their bubbles on the terrace.
We offer a superior service with a bi-lingual wedding planner, let us help you perfect your day.
Please contact Amanda & Giles Rothwell for more information and availability
Trepart, St. Pierre de Cole, 24800, Dordogne, France
Tel. 00-33-(0)553-52-66-20
Mobile: 00-33-(0)604-41-27-22
Email: rothwell.amanda@hotmail.fr www.lesgitestrepart.com
Location:
The Domaine de Trepart is easily accessible by plane, train and car
Limoges and Bergerac airports are just over an hour's drive away, Bordeaux is just 2 hrs away
Hire cars are available from all airports or transport can be arranged
Nearby Train stations are Perigueux, Angouleme, Thiviers with the TGV running from Paris
Let us help you:
- Luxury gites, on site
- A bi-lingual wedding planner
- Flowers and table decorations
- Marquee, tables, chairs, table linen, napkins, crockery, cutlery and glasses
- Sound system, microphone
- Dance floor
- Aperatifs
- Dinner - Entree/Main Course/Cheese/Dessert/Coffee
- French Wedding cake, a "Croquenbouche"
- Champagne for toasts
- Band/DJ/String quartet, you choose
Other considerations:
- A photographer
- Children's entertainer and/or babysitter
- A Wedding cake, traditionally English, French or sponge based
- Hairdressing and Makeup
- Themes
- Minister for the blessing, or an alternative blessing
- Wedding favours
- Transport
- Activities for guests, wine tasting trips
- Toastmaster
- Garden bar
- Spa treats/days for the bride and Mothers and anyone else of course
Ceremonies
- We will help you with either a civil wedding or a personal celebration
- In France only a civil wedding is legally binding, a religious or symbolic ceremony is only possible after the civil ceremony
- The civil wedding can take place in France or your home country, you will need to bring any documents with you. Any marriage in France is valid in the United Kingdom
- To be legally married you must get in touch with the local Mairie (mayor) at least 10 days prior to your wedding date. Our local Mairie is in St. Pierre de Cole.
- The following conditions apply:-
- At least one of you must reside in France for a minimum of 30 days before a marriage application can be made. Proof of residence will be required.
- The bride must be at least 15 years old and the groom 18 years old.
- The bride and groom must give their consent (a minor under the age of 18 must produce written consent of both parents or their legal guardian. If the parents or guardians are not resident in France, their signatures can be witnessed by a French Consular Officer).