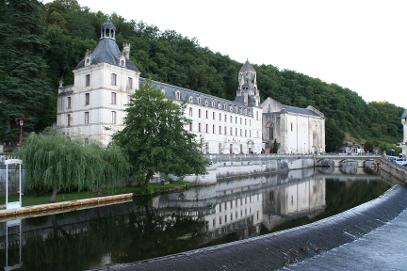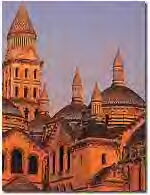 Situated in the north Dordogne, or the "Perigord Vert", nestling on the banks of the river Cole, between the stunning and historic villages of Brantome and St Jean-de-Cole, the opportunity to enjoy the superb and unspoilt countryside of the Perigord-Limousin Natural Regional Park, an area of outstanding natural flora and fauna. Within easy driving distance are many chateaux including Puyguilhem, Jumilhac and Bourdeilles, other attractions including the unmissable Grottes de Villars and the weekly markets held in nearby villages, notably Brantome, Thiviers, renowned for it's fois gras, and Sorges, the capital of truffles in the Dordogne.
Perigueux's roman and medieval architecture and cobbled streets are within 30 minutes and worthy of a visit and less than an hour away, the chateau of Hautefort, race course at Pompadour and the vineyards around Bergerac provide an excellent basis for a day out. <!-/CONTENT3>
The five star rated and 3 key Clevacances guest accomodation at Trepart, developed from a section of the 400 year old outbuildings, are orientated to both relaxing and activity holidays. Family run, they provide extremely spacious accomodation set in 18 hectares of land, with a large swimming pool, including 2 kilometres of river frontage, ideal for private fishing.

Our prices range from 700€ to 1,600€TTC per week for L'Ecurie and from 800€ to 1,900€TTC for Le Chai. These prices include all linen, towels, pool towels and end of rental cleaning. For two week rentals a mid-term clean/change of linen is included. For long-term lets, prices may be negotiated.

We are delighted to have gained a 5 star rating from the Tourism Office as well as 3 keys from the Government-backed Clevacances organisation.
From Clevacances we have also been awarded the label "peche" to help with your fishing requirements and the label "environnement", our commitment to the environment for now and for the future.
Low energy but efficient lighting, AAA rated electrical appliances and dual-flush toilets substantially reduce energy and water consumption.
Our laundry is professionally cleaned "eco", and we use biodegradable cleaning products.
The swimming pool is salt-water, reducing the amount of chemical treatment required, resulting in the water feeling soft to the touch with no chlorine smell.
All packaging, glass and metal is recycled.
Giles & Amanda Rothwell
Les Gites Trepart
Le Domain de Trepart
24800 St Pierre-de-Cole
France
Tel: 00-33-(0)5-53-52-66-20
Fax: 00-33-(0)5-53-52-28-68
Email:
rothwell.amanda@hotmail.fr
Siret: 453903767 RCS Perigueux
TVA reg: FR 93453903767