The south-facing garden and heated swimming pool
Take a trip around the garden surrounding the heated pool, here you will find mature planting, shady spots for quiet moments, lawn games, a childrens swing set and of course the heated swimming pool with plenty of sun loungers.
The Courtyard and parking area
Here is just a glimpse of the entrance to both gites, you can park your car in the carport, so it won't overheat in Summer!
Please have a look at some of our home-made videos of both Le Chai and L'Ecurie Gites and some of the surrounding gardens.
Below you will see some of our favourite pictures of the main house and the river Cole.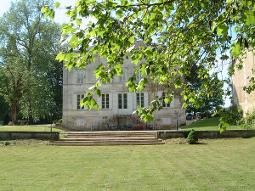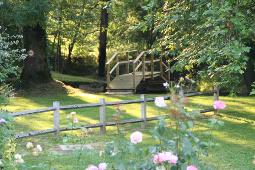 Le Chai comfortably sleeps 8 adults or children in 4 bedrooms. Le Chai Gite is a renovation of the old wine store belonging to the Domaine.
L'Ecurie Gite sleeps 6 adults or children in 3 bedrooms, with a larger sejour than Le Chai. This gite was renovated from the old stables and some of the original features have been lovingly restored.
L'Ecurie Gite, riverside terrace